Alua is an exclusive subscription messaging platform for content creators who seek to monetize their interaction with fans.
Regarded as a more exclusive alternative to OnlyFans and Fansly, Alua caters to creators and fans looking for meaningful communication. 
Read our review below to find out what sets Alua apart from similar platforms.
What Is Alua?
Alua is an exclusive and unique fan club platform that allows users to connect with their favorite content creators to chat and interact. 
The platform can be used as a dating app and a way for fans and creators to communicate in a more meaningful way.
Its main selling point for creators is that it offers them a variety of options for monetizing their content while having a good chat with fans, from paid chat to subscriptions and a referral program. It's also one of the rare fan platforms that comes with a mobile app and lets creators live-stream their content to fans.
Pros:
Clean and straightforward user interface

Discovery feed has a unique algorithm that works well

Comes with a free membership

Advanced features for chat monetization and premium membership

Quick and easy payouts

Best 24/7 live chat support in the biz

80% commission with a 5% referral commission
Available on Google Play

Promoting is available and very beneficial

Promotes mental and physical health
Cons:
A bit under the radar

Only supports the English language

Costly for fans but very lucrative for creators
How Does Alua Work?
Alua allows its creators to make money from their content in several ways. As a creator, you can set up a private feed, charge subscriptions for exclusive content, and charge for replying to messages from fans. The paid chat feature is something truly special because it allows creators to make a living just from chatting with fans. The more you chat, the more money you make!
Alua offers a variety of unique features.
Alua's Tabs
The 'Featured tab' is, by default, the first thing you see when you log into Alua. It's also the most important tab for new creators because it's the place where users can find your profile. When you're at the top of this page, you usually get a lot more visibility and attention from fans. 
You can get a profile boost to get to the top of the Featured tab in several ways: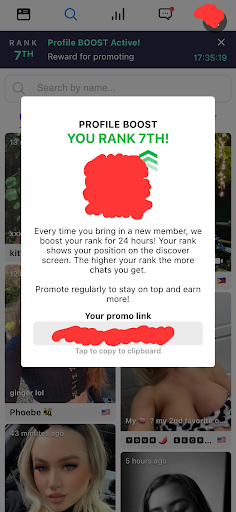 Actively use the app and be online. 

Promote your profile on other social media and garner more fans who'll look your profile up on Alua.

The more fans you have, and the more you earn, the more your profile will get boosted.

Get a profile boost when you recruit a new Alua creator. Then your profile rank gets boosted by Alua for the next 24 hours. 
Here's a rundown of the other tabs on a user's feed.
The 'Discover' tab lets users easily browse creators they like;

The 'Online' tab shows creators who are active at the moment;

The 'Nearby' tab shows content creators who are near to the users;

The 'New' tab lets users find content creators who have just started their account;

The 'Popular' tab shows users the most prominent content creators, ones that have high activity status, quality content, high number of followers, and years of experience under their belt.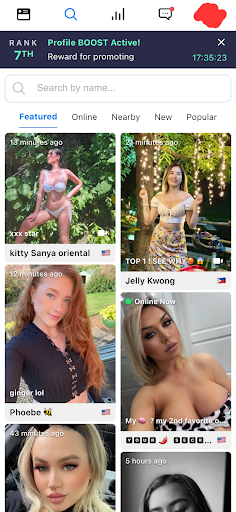 Private Feed
Creators can post their paid content on their 'Private Feed.' This content is reserved only for the fans who become subscribers and pay the creator's monthly fee.
What makes the Private Feed so special is that it's a great option for creators looking to make passive income. All you need to do to activate your private feed is add 10 content to your feed so there is some content.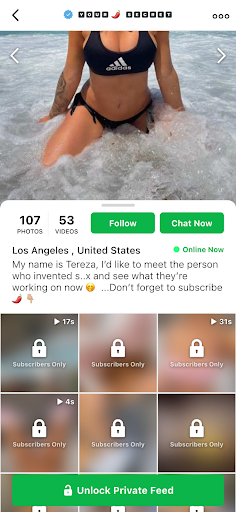 If you have a private feed, just remember to promote the Private Feed link on other social media channels and post new content frequently so that your subscribers are satisfied with how much bang for their buck they get.
Auto Greetings
The 'Auto Greetings' button lets content creators create personalized greeting messages for new followers or subscribers.
This is one of the first things most content creators adjust once they set up their account since it allows them to welcome their fans with a message of their choice.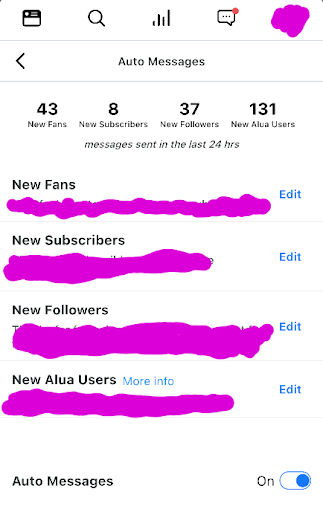 This takes away the hassle of individually sending out messages and makes it easier to greet fans.
Free Trial Chats
The 'Free Trial Chat' option lets your fans and other Alua members start a free conversation with you. However, after you send two different replies to them, the chat will automatically switch to a paid one.
This option is great for showing your fans and followers how the conversation could go between the two of you. If they like it, they can start paying to chat with you immediately.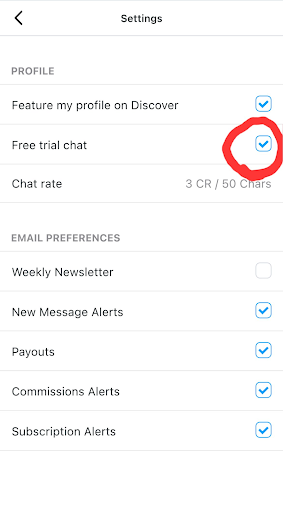 It's a very good idea to keep this feature turned on because it increases the chances of more people subscribing to your account. It also helps you encourage conversations and engage with fans.
Another feature that works well for this is the 'Broadcast' feature.
Broadcast
Managing hundreds or thousands of followers daily can get overwhelming for creators. This is what the Broadcast feature is for.
The Broadcast feature is a very powerful messaging tool that, much like the Auto Greetings feature, allows you to send a direct mass message to your fans. You can also attach paid content to the message, like a photo or a video.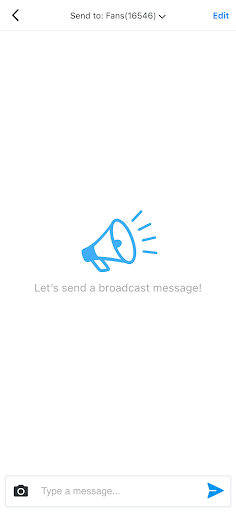 If you're a content creator with thousands of followers and an overflowing DM box, you can combine sending broadcast messages with premium content to every fan in your inbox. You'll be surprised how many of them look forward to seeing more of you.
The VIP Badge
On Alua, you can find many fans, content creators, lurkers, and casual users, but the most privileged patrons are fans with the golden VIP badge.
The VIP badge is awarded to the most active fans who have spent the most money on their favorite creators. It serves as a way to distinguish them from other fans so that content creators know to chat with them first.
How Do You Join Alua as a Creator?
Signing up on Alua is very easy. The first steps require you to register with a valid email address and password. 
If you want to earn money on Alua by using the paid chat version, you also have to provide the Alua team with an existing social media account that will act as your social proof. You can submit your Instagram, TikTok, Facebook, and YouTube accounts. 
After you join and provide an existing social media account, the Alua team will contact you in the next 24 hours to validate your Alua registration.
How Can Creators Earn Money on Alua
Alua offers advanced chat monetization and a unique subscription system that make it viable for creators to make a living through the platform.
More importantly, Alua takes security very seriously and employs 256-bit encryption to protect all data and transactions. This means that fans and creators have nothing to worry about regarding online fraud.
Let's check out the advanced money-making features on Alua.
Paid Chat
The Paid Chat option is one of Alua's main features and it works similarly to OnlyFans. The difference is that fans pay for credits and use them to interact with content creators.
The price menu is as follows:
100 credits – $20

250 credits – $50

520 credits – $100

1350 credits – $250
Fans can reach out to creators and chat with them using their credits. Alua pays creators for each reply they send to their DMs to fans.
The messages fans send to creators are free – what they pay for is the creators' replies, charged depending on how many characters they use in a single message.
Most Alua creators are very active in the chat and typically use it as their primary source of income on the platform. So, if you're a fan, don't be surprised if a creator hits you up first.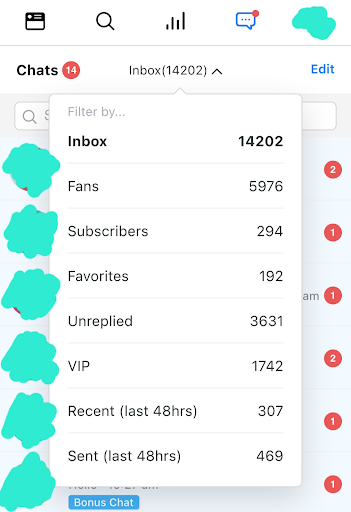 Apart from using it to communicate and develop long-term friendships with fans, creators can sell exclusive photos and videos in the chat.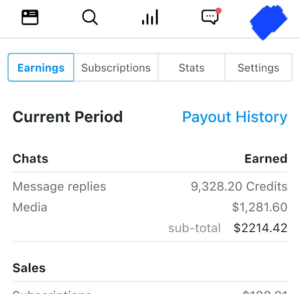 Paid Chat Content
Content creators can maximize their earnings by selling exclusive content to their chat buddies.
Choose the photos and videos you want to send, set your price, and send them directly in your chats. You can also set the exclusive content to expire after 48 hours.
This is a fantastic feature for creators who enjoy making tailor-made content for their most loyal fans who wouldn't mind a premium price tag.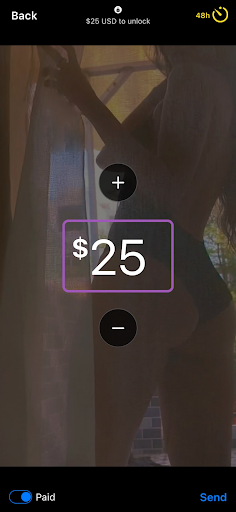 Alua's Subscriptions
Alua's subscription system functions similarly to other fan platforms. Creators make content and choose whether their content will be free or available only in the 'Private Feed accessible only to subscribers'
If you use this feature, you'll be notified of every new subscription, so you can send your new fans a welcome message.
Alua lets content creators choose the subscription price – the lowest being $4.99 per month and the highest being $39.99 per month. Creators receive 80% of their subscription earnings, which is higher than what most other 'fans' sites offer.
Recruiting
Last but not least, Alua's content creators can use the nifty referral program to recruit other creators. Alua offers 5% lifetime referral commissions for each successfully registered account.
If you're a content creator, you can snag your referral link right now and use it on your socials to spread the word.
While recruiting isn't viable as passive income if it's the only thing you rely on, it's a great way to inspire and encourage others to join in, and it may supplement your income in the long run.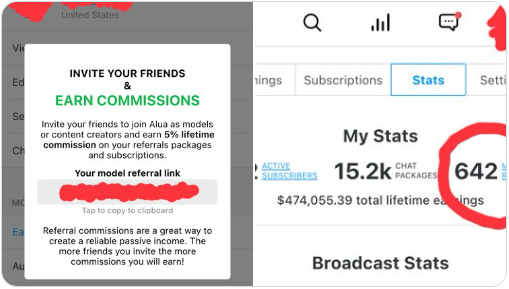 The Ultimate Combo
Here's a surefire strategy to make the best of Alua's monetization as a creator:
Offer subscriptions to your private feed;

Broadcast paid content to your inbox daily;

Sell custom content in your chats at a premium price;

Regularly reply to your DMs to keep your paid conversations going;

And make an active effort to recruit creators via your referrals;
Still, keep in mind that it's a highly competitive environment. There are many content creators on Alua, and users don't spend their credits on just one creator. You need to stay on your toes to rise to the top as a VIP creator.
Luckily, the features Alua offers provide everything you need to make your content stand out from the competition. We hope some of these strategies have inspired you.
Why Use Alua?
Alua distinguishes itself from other dating sites by its highly engaging platform, the massive variety of creators, and the versatility of the monetization options it offers its creator base.
Paid Chat
The paid chat is Alua's bread and butter. It's the driving force for creating meaningful connections between fans and creators that benefit both.
Of course, the paid chat depends on the individual creator, and many creators don't have time to talk. They only set up their private feeds and use mass DMs to sell other exclusive content. This is also fine.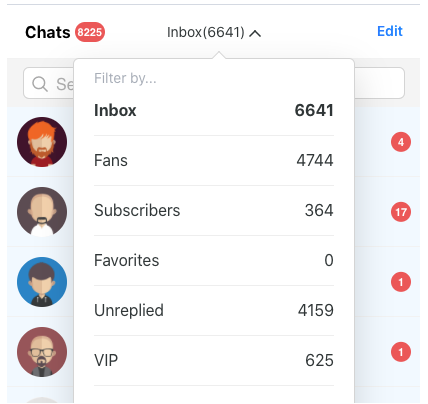 However, many creators focus on the paid chat feature and use it to sell premium content to individual fans willing to pay extra.
So, if you have a penchant for a nice chat, you can turn it into a solid stream of income while creating new connections.
Ease of Use
What makes Alua so enticing is its ease of use and well-designed, clutter-free interface that focuses on the creators.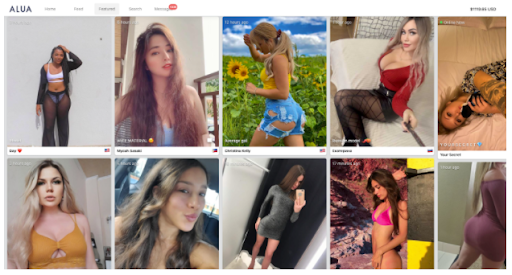 The unique discovery feed does an amazing job of showcasing the most prominent creators, the newest and upcoming creator profiles, and the creators nearest to their fans.
The feed is well-organized, and the algorithm works like a charm.
As a creator, the discovery feed gives you more visibility within the app to scout out more followers and subscribers.
As a fan, you can effortlessly browse away to find the creators that are to your liking.
Mobile Apps
Alua is more than just an excellent 'fans' website; it's a fully featured iOS/Android app, well-designed and bug-free for your convenience.
As a matter of fact, it's the only 'fans' platform that comes as a mobile app, and this is what ranks Alua as the #1 most user-friendly platform for mobile devices.
If you're a content creator, having the mobile app is a must, especially if you're actively managing and customizing your account.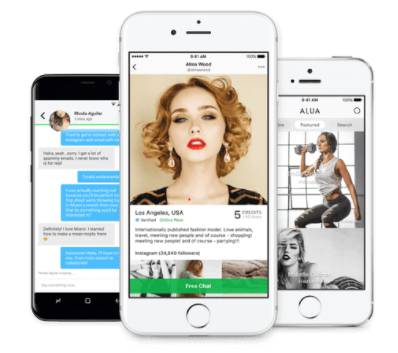 As long as you're logged in on the mobile version, your profile will be shown in the 'Online Now' tab on Alua's main feed. 
Commissions
Not only does Alua match industry-standard commissions, but it surpasses them.
Content creators get to keep 80% of their subscriptions and the total earnings they get for the paid content they post. They can also earn a lifetime of 5% commissions from Alua's referral program for every successfully recruited creator.

Alua Promotes Your Account
You've heard of 'share for a share.' But what about 'promote to be promoted'?
Alua is one of the few sites that boosts any Alua creator account that mentions the website on other social media accounts.
Whenever a creator promotes or links their Alua account on social media, Alua's algorithms detect this and automatically raise their ranking on the discovery tab, boosting the creators' visibility.
Simply put, if you promote Alua, Alua promotes you back!
The Stats Page
Alua also has a 'Stats' page with statistics related to the total number of profile views, the number of fans who viewed and received the content, total earnings, etc.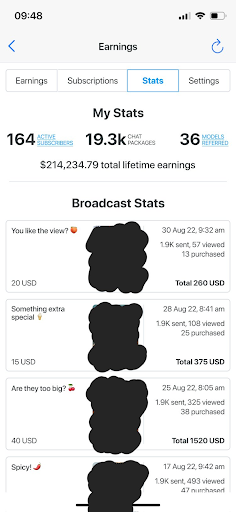 Keeping a close count on every number as a creator is crucial because it helps you keep track of your earnings and the overall impact of your content. This, in turn, empowers your decisions as a creator and helps you grow your brand by focusing on the content that works.
Alua Customer Support
While similar platforms have a difficult time with customer support, Alua has one of the best customer support systems. It's available 24/7 to help and assist fans and creators with any questions or issues they might have.

Conclusion
As you can see, Alua sets itself apart from other such websites. It's very rare to see a platform that allows fans to chat with social media celebrities and models.
Alua caters to fans and creators looking to try out something different from ordinary dating sites and chat meets.
With its high standards in terms of security, privacy, authenticity, and an excellent algorithm that works for both fans and creators, Alua goes above and beyond to make chatting a much more pleasant and rewarding experience.
Check out Alua and create an account here.