TL;DR: Don't worry; you can still promote your Linktree links on Twitter.
Following a major change in their guidelines, on December 18, Twitter announced that it was against their policies for users to link to other social media accounts, a ban that included linking tools like Linktree, Carrd, and even Instagram handles.
This was yet another in a series of abrupt bans and reversals of those bans that Twitter issued last month after Elon Musk bought the company in October this year. Twitter allegedly decided to remove all cross-posting via 'free promotion' platforms out of fear that users would steer away from their app. 
Let's see what the controversy was all about, what the most current Twitter policy on Linktree promotion is, and how you can use a Linktree for cross-platform promotion.
The 2022 Linktree Ban Controversy
Linktree is a popular and free social media referencing tool many content creators use. Users can link from Twitter to Linktree and vice versa, easily reach out to fans and their target audience, and boost their connections. 
Twitter extensively used Linktree, which is why their sudden December 18 announcement to ban it entirely from the platform took users by surprise. 
Alex Zaccaria, the CEO of Linktree, stated that not only was Twitter's ban surprising, but it went against its own principles as a platform:
"The proposed update to Twitter's policy, banning creators from linking to other platforms like Linktree, is at its very core anti-creator and antithetical to the open, free Internet on which Twitter was founded," he said.
The Ban
In the announcement, the Twitter Support Account stated: "[M]any of our users are active on other social media platforms. However, we will no longer allow free promotion of certain social media platforms on Twitter."
The list of prohibited platforms included social media platforms Facebook, Instagram, Mastodon, Nostr, among others, and third-party link aggregators like Linktree.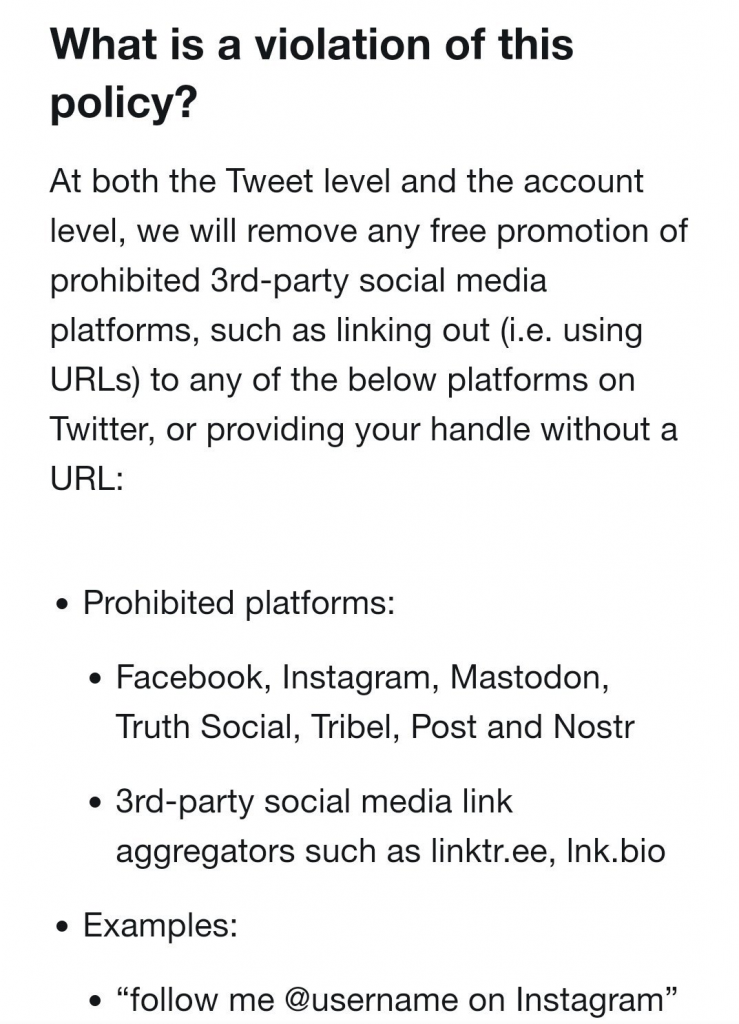 Although Twitter banned promotional links via Linktree and other targeted websites, the social media platform claimed it would still allow users to "promote" any of the prohibited social media platforms if users purchased a Twitter advertisement for paid promotion to other platforms. However, at the time of the announcement, they still hadn't implemented the feature yet.
The good news is that the questionable decision was met with heavy backlash from the majority of users.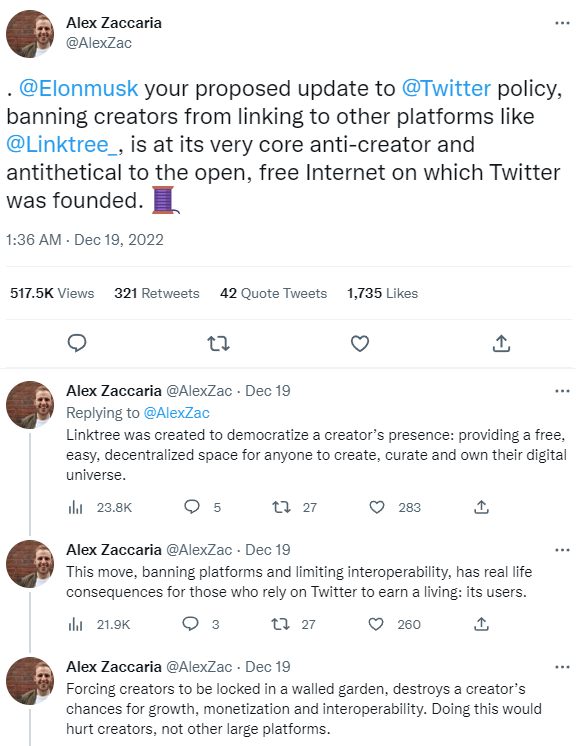 Even Twitter's official poll about the policy reflected how poorly users thought of it.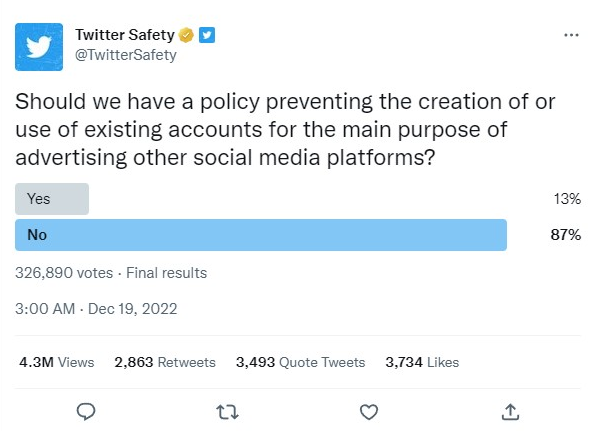 The Reversal of the Ban
Twitter promptly reverted the decision the same day. Now users and content creators can once again cross-promote freely via other social media platforms without having to pay.
Twitter removed the official announcement thread, but Linktree has since posted a tweet confirming that this also applies to Linktree: content creators can still use the link aggregator on Twitter.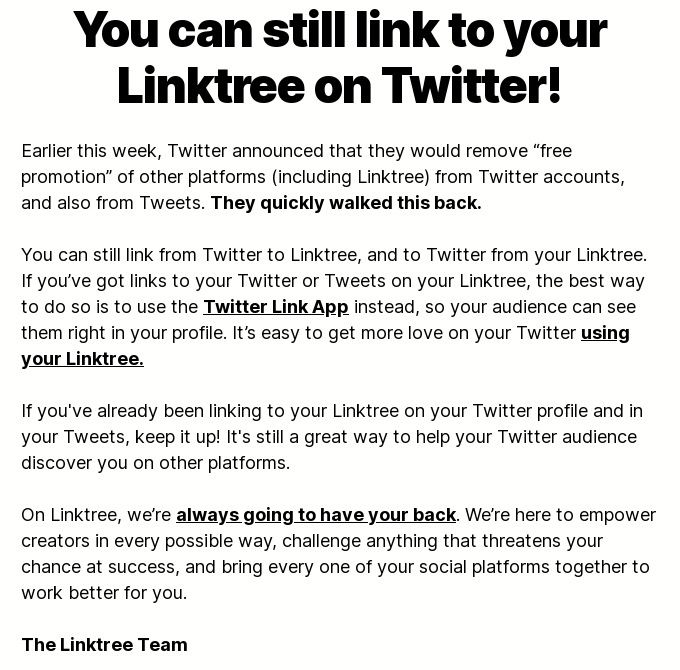 Read more: How To Find Your Niche
Using a Linktree for Cross-Promotion on Twitter
The unique value proposition of this freemium link aggregator is that it allows creators to cram all their social media handles in a carefully curated "tree" and share it on platforms like Instagram or Twitter.
With Linktree, you can create a landing page that houses "everything you create, curate, and sell online," from social media channels to podcasts. When you claim your Linktree, you get one simple, tidy URL you can then paste anywhere you want.
For example, Instagram only allows hyperlinks on profile bios and stories. However, the bios' character limit prevents users from linking to all their other social media platforms. Linktree exists to make up for the fact these platforms' interfaces aren't made for multiple links. If you paste your Linktree into, say, your Twitter bio, you can circumvent its character limit. This way, creators can still funnel their audience between channels and encourage followers from, let's say, Twitter, to discover their content on TikTok and vice-versa.
They can use other social media platforms as links alongside websites, blogs, products, events, booking links, landing pages, and podcasts. If they go premium, users can customize their linktree plan, schedule links, and even access analytics. This gives them unique insights into their click-through rates and conversions from one platform to another.
Followers can easily access the creators' channels through their multiple cross-referencing links. This can increase brand awareness, encourage conversion, and open up opportunities to grow their online presence.