Short-form content is by far the most effective social media format right now. It's a trend that got really popular with TikTok and has since spilled over to Instagram and Facebook Reels, as well as YouTube shorts.
Whichever platform you visit, you'll find more or less the same video formats everywhere. But let's dig a bit deeper and see if there's anything that sets them apart.
We're especially interested in sharing which platforms do the best job of promoting short video content, especially when it comes to more exciting adult content.
TikTok
TikTok is popular for a reason. Its interface is quite simple and easy to use. The only thing you see when you open the app is the videos. There are ads that pop up here and there, but they're basically gone with one scroll.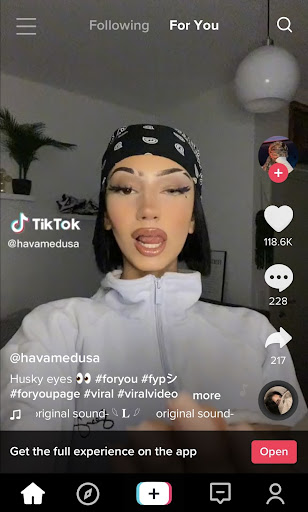 TikTok's algorithm is quick to learn what you want and don't want to see. It uses your reactions to different videos to tailor your feed to your own taste. It takes approximately a week or two before you start seeing your favorite niches on your TikTok feed.
The interesting – and sometimes annoying – thing about TikTok is that it also shows stuff on your feed that your friends and/or partner like. So, if your feed is full of cute little kittens all of a sudden, even though you're more of a dog fan, maybe you should blame it on that new cat-loving coworker you've recently followed on TikTok.
This proves that, more often than not, the stuff you like about social media can easily become something that annoys you. Say your partner constantly shares traveling influencers with you, and after a short while, your feed starts to show pool after pool and hotel after hotel. If business-class plane cabin videos are not your thing – well, tough luck, as your feed will remain forever influenced by the people closest to you.
Still, TikTok is an immensely popular and highly entertaining platform that has amassed a crazy amount of people on it, producing and watching millions and millions of videos each day.
It's a place where people constantly explore new, creative grounds. There's always something going on as trends emerge and the most random things become viral. But our consumer behavior is such that trends become obsolete pretty fast, and the TikTok feed can quickly get really loud and obnoxious with so many similar trending videos.
But, hey! At least you'll never feel like you're missing out on the latest thing on social media.
Pros
Individual creators will give you permission to download clips for personal use.
Super easy and simple sharing options.
Unlike YouTube, Instagram, or Facebook, TikTok doesn't distract you from its main content with other options and other types of content.
Although there are plenty of ads, like on most social media, on TikTok, they look more like a natural part of the feed, and you only notice them when there's a 'promo' or 'paid partnership' tag or when you see a Sign-Up or Download button.
It comes with a great algorithm that quickly learns your taste but also leaves room for surprise and unexpected new content.
You'll never miss the newest trends and events.
Cons
Trends can quickly become old and obsolete (one good example is viral sound clips).
Only one type of content format – short video.
Could use some improvement in the search function as sometimes things are hard to find.
Your friends' interests and preferences also influence your feed's algorithm. This can be annoying at times if they're widely different from yours.
YouTube Shorts
The concept of YouTube Shorts is similar to that of TikTok. Most of the controls you'll see there will be identical, and the interface doesn't differ much, either.
The main difference is that you can leave the Shorts section and get back to regular YouTube whenever you want. The algorithm is largely based on your long-form video viewing history on YouTube, so it works as its extension.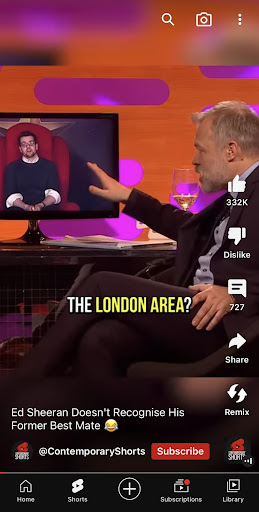 The downside to this is that it's difficult to differentiate between YouTube Shorts' latest trends and YouTube trends. When you visit YouTube from a browser, they're bundled together – there's no separate section for trending YouTube shorts and long-form videos. Also, there's no trending section whatsoever on the YouTube mobile app.
YouTube Shorts might not seem like the most hip short-video platform out there – it's certainly not TikTok setting the latest trends, but it has its upsides. Because YouTube probably knows you a little too well by now, you'll always see videos close to your preferences and related to channels from your viewing history.
Pros
If you get bored with the Shorts, you can always switch to good old regular YouTube.
More variety in terms of uploading video length as opposed to TikTok and Instagram.
The algorithm follows your YouTube preferences, and the "Do Not Recommend Channel" option helps filter out what you don't want to see.
Most TikTokers also have YouTube accounts, so a lot of TikTok content will also be on YouTube.
Veteran and newly popular YouTubers can use the Shorts section to promote their short video content without using another app.
Advertising is not as bad as in regular YouTube videos – although, with YouTube premium, there's no advertising at all.
Cons
Sometimes the algorithm shows you the same videos and genres, so you don't get to see new stuff as consistently as you do on TikTok.
Some YouTubers don't really get the vibe of Shorts. They miss the point and only use them to advertise their long videos. This is more common on YouTube than on any other platform on this list.
You don't always get to see the latest trends because the algorithm is too busy showing you what it already knows you like from YouTube.
Instagram/Facebook Reels
We've put these two together because they're owned by the same company (Meta), but they couldn't be more different in terms of popularity and overall vibe.
Of all the apps/platforms mentioned so far, Instagram is the one that resembles TikTok the most and is its fiercest competitor.
Facebook reels are a completely different story. Since Facebook mainly focuses on promoting a different kind of content format, we often forget Facebook Reels exist at all. Instagram, on the other hand, has become particularly reel-oriented in the past year.
The content of Instagram and Facebook reels is somewhat similar, but Instagram does a better job of curating your feed according to what you want.
In fact, Instagram does a great job of showing you lots of popular content (like TikTok). It caters to your niches and even surprises you with something new more often than you think. Also, with so many influencers on the platform, it's definitely still very influential in setting trends and determining what's popular.
Instagram will feature reels that are experimental, creative (use filters, music, camera effects, text), fun, and grab your attention quickly, but also ones that have a surprise twist or are really funny. Inspiring videos also fare well, especially those with the goal to start a trend others can participate in.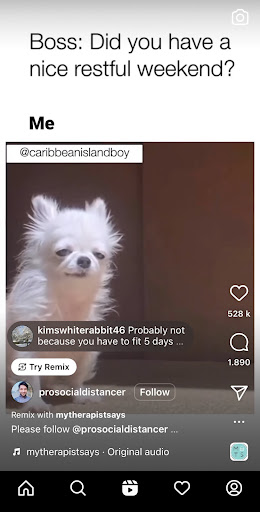 Facebook reels aren't focused too much on trending, super-popular short videos, like TikTok is. The platform has its other charms, and the reels are kinda secondary to it, anyway.
Sure, you're still going to see what you like on Facebook reels. Are you into makeup? Then makeup videos and quick tutorials are all you're going to see.
Pros
Reels aren't the only thing you can watch on Instagram and Facebook. You can post images, or share, like, comment on an opinion, and more.
You can watch Instagram reels on Facebook and vice versa, so you don't need to check the two apps constantly.
The same goes for content creators. As a content creator, you can post most of the content on both platforms to increase your outreach.
Instagram's algorithm is much better than Facebook's when it comes to showing you what you like to see + new, interesting stuff.
There aren't as many advertisements on Facebook reels as there are on other platforms (including Instagram).
Cons
Instagram clutters your feed and stories with lots of ads, which often gets pretty annoying.
The two platforms have different controls. For instance, Facebook allows you to pause by tapping the screen, while Instagram requires you to tap and hold the screen.
Desktop support of Instagram reels is below average.
Instagram has been losing a bit of its shine. Users complain of seeing too many unknown accounts on their feeds. Plus, it could be argued that the Insta aesthetic needs a bit of reinvention.
Different algorithms for Facebook and Instagram result in different feeds.
What Is the Best Short Video Platform?
There's really no straightforward answer to this question. It depends on several factors, such as how new you are to the platform, your long-term goals, as well as the type of platform, and whether it solely features videos like TikTok and YouTube or it also has other content like Facebook and Instagram. All this will influence your experience on the platforms.
For example, if you're a new creator and want to focus on making short videos but like to keep the option for long-form videos as well, you'd want to pick the most popular format for that, which is YouTube. According to a recent analysis by YouTube, channels have a higher chance for growth if they make both short and long-form videos. So, channels that are making short videos are actually "growing faster."
But if you know you only want to focus on short video and nothing else to grow your brand, then TikTok is the clear option for you, as no other platform does as much with this type of video format as TikTok does.
That being said, let's go over the short video platforms once again and see which one stands out.
TikTok Has Really Nailed the Short-Vid Format
TikTok is really popular with young people aged 10-29, who comprise almost half of the overall users. No wonder!
TikTok makes it super easy to upload and post short-form videos.
It has a really responsive algorithm that follows your interests but also keeps you updated with the latest trends.
The user experience on the platform is on point. Sharing, scrolling, liking, posting – all of this is done with one click and takes half a second.
Lots of creative ways to make videos. You can use filters, stitching, reacting, and live videos to post unique content and interact with other creators and users.
It's just very popular right now, giving it a plus factor.
YouTube Shorts Is for YouTube Junkies
If your favorite social media/online platform is YouTube, and you want more of the short-vid format, then YouTube shorts are bound to be your new favorite section.
The great thing about Shorts is that it gives you more control over what you want and don't want to see.
You have access to your watch history at all times, which is usually not available with other platforms.
You can always go back to YouTube and switch to your favorite longer-video content if you want.
No ads with YouTube Premium.
Instagram Is for People Who Don't Like TikTok
Instagram reels are pretty similar to TikTok. In fact, lots of TikTok videos are featured on Instagram reels. This is perfect for people who like to see what's going on on the other end of the street without actually crossing it.
Instagram also has other content besides reels you can check out.
A good algorithm that has a nose for your interests, even the niche ones.
Instagram has a shorter video limit (90 seconds) than TikTok (3 minutes), which results in a faster scrolling pace.
Facebook reels are pretty unassuming. You get to see them when you really want to because they don't show up in your face as much as the Instagram ones do.
Facebook reels are for people who don't like to see reels that much, only occasionally.
The algorithm is pretty limited and focuses on a few things you like. It doesn't really respond much to trends and new stuff.
Lots of other content to turn to on Facebook – links, posts, images, longer videos, groups, pages, etc.
Not many advertisements on Facebook reels.
Read More: How To Prevent Tiktok Bans 2022
Why Not Consider an Alternative to These Platforms?
One thing that we haven't mentioned in this text is censorship. All of these platforms are pretty coy toward nudity and adult content. They have strict rules as to what can and cannot be featured when it comes to voluntarily showing off your body.
This can be pretty limiting for some people who'd like to use these platforms in a more liberating way – they're left with little choice.
But what if there actually is a choice? A great app that has all the great stuff and functionality of TikTok, the focus of YouTube shorts, and the versatility of Instagram. We're talking about Waptap, a short-vid platform that allows free creative expression without bans.
Waptap is a social network similar to TikTok that features short-format videos. It's a safe harbor for daring creators of all shapes, sizes, and interests, including ones who like to promote sexy and nude adult content.
Lots of social media users on popular platforms want to be more daring and experimental when it comes to their content but face limitations due to strict regulations. Lots of users have been unfairly banned, sometimes even forever, without any warning.
Well, Waptap offers a new creative space that does away with the limitations of social media giants and gives you the freedom to create all kinds of sexy and playful content.
With Waptap, you can easily connect with other like-minded creators for future collaborations and engage with users thirsty for new kinds of uncensored content.
Also, why not make money out of your presence on Waptap if you want to? You can promote your work by linking to your other accounts in your bio. You can also mention them in the video captions.
Conclusion
As you can see, there is no lack of social media platforms right now, especially ones that focus on short-vid formats.
And while most of them are pretty similar in features and the way their algorithms work, they're also pretty limiting when it comes to posting nude, adult content.
Luckily, we live in very creative times. Waptap is a new social media app for just that kind of content. Using this app, you won't have to fear you're revealing too much or being too experimental. If you don't believe us, join Waptap right now and see for yourself.