Fansly is among the most popular social media platforms that also allow uncensored adult content. It stands really close to OnlyFans in terms of popularity and continues to grow
The appealing features we discuss in our in-depth Fansly guide will undoubtedly make more and more people flock to the platform. If you're one of them, you probably need some guidance on how to make money, grow your profile, and attract more fans and subscribers. 
Whether you're just starting out as a creator on Fansly or have been there for some time, we're confident you'll find this guide very useful.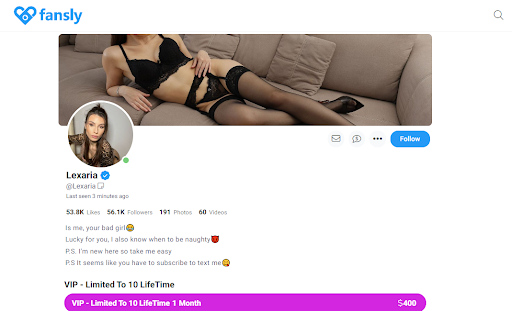 What Is Fansly?
Fansly is a social media platform that works on a subscription model basis. Fansly creators can post and sell their content (pics, videos, live streams) on the platform for a particular monthly fee through PPVs and referrals. 
It is a new platform launched in 2020 that gained traction in 2021 after OnlyFans said it would ban adult content on its platform. As a result, content creators flocked to Fansly. As soon as OnlyFans' announcement went viral, Fansly claimed they received almost 4,000 applications for content creators in under one hour.
The ensuing backlash got OnlyFans to pull back the decision to ban adult content. But that didn't stop creators from migrating to Fansly in large numbers. The opportunity to make money through their multi-tier system has been a great incentive. 
How to Set Up a Fansly Account
To set up a creator's account on Fansly, you'll need to go through the regular signup process. You have to provide a valid email address and create a unique password.
Once you've done this, you need to go to fansly.com/application, log in through your newly made account, and follow the instructions. 
For the verification process, you'll be asked to provide: 
A color photograph of yourself (make sure it's not a resized or edited image. Your background should be clear and simple)

An identification document (a valid ID card or passport)

A paper with today's date and the words 'Fansly' written on it 
Make sure to upload pictures in .jpg and .png format. Follow the instructions carefully and fill in all the required fields before you click Submit or Update Application. Fansly will ask for bank account details for your future payments after the verification process ends. 
How to Make Money on Fansly
There are several ways you can make money on Fansly. 
Select Your Subscription Price
Fansly allows its creators to set a monthly subscription fee for their content, although you can also have a free page if you choose to. Subscription prices can vary between $4.99 and $499.99. 
To set up your subscription tiers, go to the Creator Dashboard and click on Plans/Promos. You can modify four subscription tiers – 1 month, 2 months, 3 months, or 4 months – and create your subscription options. 

Fansly gives you three types of subscriptions: Regular Subscription, My Best Fans, and Big Players.
My Best Fans is oriented toward more loyal fans. Big Players is for the very best fans – you can use these options for different benefits. Usually, the Big Players type also has larger subscription fees. So you can also put discounts on the tiers that will last a limited time. The discounts can go from 5% to 50% off.

Free Account
Fansly allows its creators to have a free page that doesn't require any subscription. Your fans can view everything you put on that page without paying any subscription fee. 
If you want to make some money from the free page, you can put part of the content behind a paywall as a PPV and ask your fans to pay a particular sum to see the whole thing. 
One big advantage of the free account is that you can show your fans a glimpse of what's expecting them if they decide to become paid subscribers. That's one way to aim toward fan conversion. 
Earning Money by Chatting With Customers 
After a lot of requests, Fansly introduced paid messaging in 2021. Since then, creators can make money by chatting with fans. You can set up a price per message and include a tip option so that fans and subscribers can also tip you when you're chatting. Also, you can send PPVs through DMs and make extra money. 
Besides making money, chatting is also great for conversions and building fan loyalty. It's a great way to ask your fans for feedback on what you can improve as a creator. Find out what works in the fan/creator relationship. 

Referrals
If you want to make passive income on Fansly, you can take advantage of their referral system. Fansly actually has two options when it comes to referrals. For example, you can refer to both a fan and another creator. 
Fansly gives you a 5% commission from the referred creator's money. That is for the first year of them being on the platform. After the first year, this commission turns into a lifetime commission of 1.5%. 
When you refer a fan, you do this through an affiliate code that brings that fan to your page. You then get 1% of their purchases within the first 90 days of their presence on the platform. 
Posting on Fansly
Before you start promoting your profile, you must have published content on it. It's important to have some photos and videos on your profile ready for new fans to see them. 
What Type of Content Can You Publish on Fansly?
On Fansly, you can publish both NSFW and SFW content. It's up to you to choose what kind of content you're comfortable producing and making it available to viewers. 
From SWF content, you can publish content related to:
Food and cooking

The music industry

Arts and culture 

Professional advice

PR expertise 

Fitness

Life coaching

Modeling 

… and more. 
From NSFW content you can publish:
Nudes (with or without showing your face)

Implied nudity (content where nudity is suggested in some way)

BDSM (bondage, dominance, and sadomasochism)

Various fetishes (foot fetish, latex fetish, pantyhose fetish, and others)

Public flashing

Sex advice

Hotwife lifestyle

Cosplay

Couples 

Roleplaying

… and plenty more.
NOTE: Make sure to take a good look at Fansly's terms of service as to what is allowed and what is forbidden to post on the platform. That way, you'll avoid any potential bans or temporary suspensions from the platform.
Generally speaking, Fansly's main points of good behavior on the platform require no minors (all creators must be 18+) and no material containing child sexual abuse, sex trafficking, or prostitution. 
Pay Attention to Content Quality
The visual quality of your content is something that you shouldn't overlook. Subscribers will want to see appealing photos and videos with proper lighting, decent sound (if you include sound), and attention to detail, like an attractive background and nice clothes.
The good news is that you don't need an expensive camera or lots of equipment to make your content look good. Some of the things you need to consider to create quality photos or videos are:
Pose – try changing different poses and leg stances to come up with sexier poses. You can put one hand in your pocket, a leg up front, a leg to the side, or stand with your feet together. 

Angle – you can also experiment with different angles (high-above angle, down below, from the side) to create a sense of intimacy with your fans. 

Background – choose one that will fit the theme of your content. For example, if you're a bikini model, select a location that will be more exotic. Think of a well-designed local pool, a nice beach from your neighborhood, or a vacation spot you might be visiting at the moment. 

Lighting – if you don't want to pay for a ring light (although you can find ones for $40-$50), you take advantage of the natural light. Use an app such as

Golden Hour One App

to track the best natural light conditions where you live.

Clothes – clothes don't have to be expensive or too elaborate to work. Pick clothes that you feel comfortable and sexy in. If you're a cosplayer, it's worth investing in a more elaborate costume. If you're on a low budget, try making some of the clothes yourself. 
How to Post on Fansly
Posting on Fansly is pretty easy. You can do this through the default homepage/wall on your profile. Fansly gives you the option to either upload new media from your computer or get media from the "vault," aka stuff you've already put on Fansly. 
Right next to the Uploading icon, there is a Schedule Post icon and a Set Post Expire Date icon. I'll talk more about this in the next section. Here you can also create a tip goal, a poll, and a locked text. This is where you can choose who gets to see it and who doesn't. 
That also applies to the post you're publishing. You can choose between 'following,' 'subscribed,' 'tipped,' 'followed by me,' and 'media purchases.'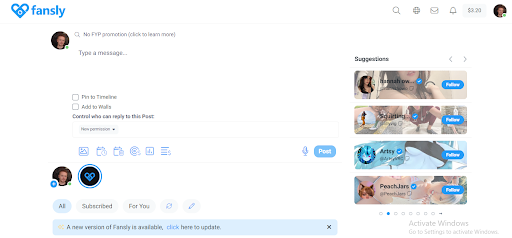 How to Schedule a Post 
Scheduling a post on Fansly is also very easy. You only need to go to the posting menu and select the calendar icon. Select the time and date you want your post to be released and select the content you want to post (the video or pic), any captions you might want to add, and edit permissions (who's allowed to see it from your subscribers and who isn't). 
How to Navigate Fansly
When you log into Fansly as a creator, you will see a homepage or a wall that's similar to, let's say, the Facebook wall of your profile. From there, you can post new content. And on the right-hand side, you can also search for suggestions for creator's profiles. 
On the upper right side, you can see a small profile menu that gives you options like Subscriptions, Lists, Media Collection, Bookmarks, Messages, Notifications, Earning Statistics, Referrals, Add Payment Method, Add Payout Method, Help Center, Language and various settings.
You can change your online status from Online to Away or Hidden. There you can also find the Creator Dashboard from where you can navigate the subscription tiers (through the Plans/Promos options, as we already mentioned), as well as stuff like subscribers and top subscribers, messages, earnings, tax documentation, and else. 
How to Change Your Fansly Username
Luckily, creators can change their Fansly username if they want to. Because of privacy reasons, though, they will have to open a support ticket or reach out to Fansly's customer service at [email protected] and request their username change there. 
When you submit a ticket or send an email to Fansly, make sure to include your new desired creator's username inside it. 
Promoting the Fansly Profile
Once you've posted your first 10-15 pics and videos on Fansly, the next step is to promote your content. You must promote your content on other social media platforms. It's the best way to expand your fanbase as a creator. 
But where would you promote your content? Well, there are lots of platforms out there where you can promote your Fansly profile and attract new fans and subscribers. These are the best ones: 
Instagram

– this is a great place to promote your Fansly content. The more Insta followers you have, the more likely it is that they will flock to your Fansly profile if you mention it on Instagram. If you make adult content on Fansly, be careful as to how much you reveal of it because

Instagram has its own nudity rules

(nudity is forbidden). 

Twitter

– similarly to Instagram, Twitter is another great platform you can use to garner new fans and subscribers to your Fansly profile. You should be careful of what you choose to show on Twitter because it also has

nudity restrictions.

   

Reddit

– Luckily, you can post NSFW content on subreddits, making it the perfect social media platform outside Fansly, where you can also promote your content with images. You can find some

subreddit promotional spaces here

. Just so you know, you have to be above 18 and a registered Reddit member. 

TikTok

– The problem with TikTok is that it doesn't allow you to explicitly promote or mention Fansly. Still, you can put your Fansly profile URL in your Linktree, which can stand in your TikTok bio section. 
Conclusion
All in all, Fansly is a great alternative to OnlyFans. With its tiered subscriptions and lifetime commission, it even offers better monetization conditions than its competitor.
As a Fansly creator, you certainly won't end up empty-headed. You can use subscriptions, and referrals, chat with fans to make money, post PPVs, ask for tips, and do live streams you can charge for. 
Fansly is a creator-friendly app that lets you easily upload videos and pics. Additionally, you can schedule your posts, thus making it easier to manage, especially if you post daily.
Finally, creators can rest assured that their creative efforts will be taken care of on Fansly – both in terms of privacy and money-wise.