For years, creators have been patiently waiting for a fully uncensored short-vid platform that doesn't ban them for the slightest glimpse of NSFW content.
Enter Waptap, a short-video platform that scrolls much like TikTok but also offers 'absolute freedom of expression.'
In this review, we'll take a look at how Waptap works, the features it offers, who it's for, and how it stands compared to alternative platforms.
What Is Waptap?
Waptap is an inclusive social media site for short videos that caters to anyone looking for a non-restrictive platform that gives them the absolute freedom to express themselves in a sex-positive light.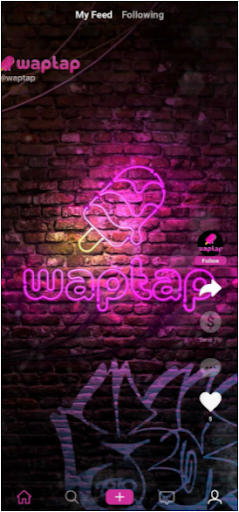 This next-gen +18 social media site has a feed that is visually and functionally very similar to Instagram reels.
However, Waptap users can create and curate their content as they wish. They won't get banned for posting and linking to explicit content as long as the content follows the platforms Terms of Service.
Waptap is also free, and signing up on the app is super easy, so you can become a creator in just a few minutes.
Pros
Absolute creative freedom and body-positive expression

Customizable, straightforward, and bug-free interface

Super fun and easy to use

An excellent platform for your promotion

(Mind-reading) algorithm WILL find exactly what you're looking for
Cons
How Waptap Works
Similar to Tiktok, Waptap allows creators to post short video clips to their profile which are then made publicly visible on the Waptap feed. Creators personalize their videos with the use of filters, effects, and music and post them on their profiles.
Anyone can create an account, and anyone can post, like, comment, and follow creators. 
The best part of all, creators are not restricted if their content is too sexy, unlike Tiktok. Waptap is the next step in the natural evolution of adult content creator websites, an innovative combination of video feed UX and creator monetization.
While Waptap does allow uncensored videos and sexually explicit content, it's not an exclusively adult platform. The sexually explicit posts are always hidden behind a filter, and fans can turn this filter on or off whenever they please. Creators can post, and fans can view SFW content as well. 
If you're a creator, curated videos from your profile are shown to people who the Waptap algorithm deems as likely to be interested in what you have to offer. Frequently uploading videos on Waptap increases the likelihood that your account will be discovered by others. You can also expand your audience and include references to your other adult platforms in your videos without fear of censorship or bans.
If you frequently post videos on Waptap, you also make it more likely that your account is discovered by like-minded fans. 
To navigate across the app, you can use hashtags and the discovery feature to browse across accounts.
How to Join Waptap?
You can join Waptap either as a user or as a creator through a simple sign-up process. Additionally, you can also sign up from a Waptap creator's promo link.
Waptap users have two options – they can either choose to register or not. Registering will give them the possibility to customize their feed. Otherwise, they can browse Waptap only as a visitor – the only thing they need to do is confirm they're 18 or above.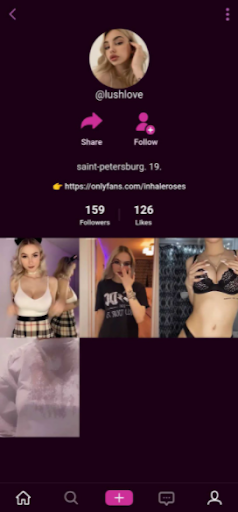 Who's It For?
While Waptap is a bit under the radar, it boasts a welcoming, inclusive, body-positive community.
Adult content creators will feel right at home. This includes both experienced and newbie adult content creators, entertainers, models, rope artists, strippers, SWs, and BDSM enthusiasts.
Are There Content Restrictions on Waptap?
Waptap is pretty lax when it comes to content restrictions. You can find more about it in their Terms and Conditions, but, generally speaking, Waptap requires its creators and fans to be 18 years of age, to follow local, state and federal laws, and to follow regulations and rules regarding indecent and obscene content and communication. 
The platform features a whole variety of sexy videos. To illustrate, this includes stripping clips, dancing, flashing, nudity, explicit videos, and thirst traps, so fans get to have a field day of browsing through the platform. If you want to access Waptap's sexually explicit content, you must toggle off the filter.
Like on TikTok, there are videos that use filters in all sorts of creative ways, like transitioning videos from fully clothed to nude.
Fans can find lots of unique trendsetters that create and edit playful and enticing videos.
Features
Waptap lets adult content creators use its features as another digital platform to promote their adult-oriented content on other links like Fansly, Twitter, or Snapchat.
There are so many features that content creators can use. Here we're going to go over the most important ones.
Freedom to Create and Promote Links to Other Social Media Sites
Waptap is perfect for adult content creators who seek to branch out on multiple platforms. It effortlessly solves a problem that content creators have faced for years – where to promote?
Other commercial social media apps like Instagram or TikTok don't take too kindly to NSFW promotion or OnlyFans links, so adult creators can't take advantage of the engagement and growth potential they offer.
Not here. You're free to use Waptap to promote and link your other social accounts. If you have an Alua or OnlyFans, you can simply add the links to your profile.
Simple and Elegant Interface
Waptap has a very simple and elegant interface with an eggplant-purple background that's easy on the eyes. It allows you to customize your feed and tick boxes of what you want to see more or less off. This includes NSFW content – if you don't want to see it, you can just turn on the filter. 
You can like videos, follow creators, comment on their videos, share other users' videos, or save them on your profile.
If you want to check out something specific, you can use hashtags, which work the same as on other platforms.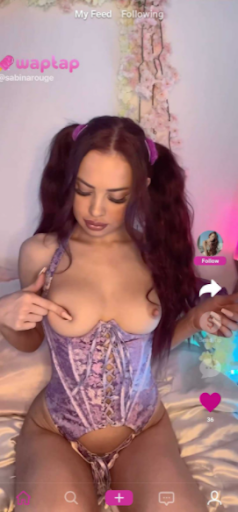 Opportunity to Connect With New Audiences
Waptap is a safe haven for all types of enthusiasts, presenting a perfect ground for reaching out to like-minded people.
The app encourages its creators to use the hashtags and discovery feature wisely in order to attract users and their target demographic who is looking for something specific.
What's so great about this fresh new platform is that it opens up a new window of opportunity for adult content creators who want to cross-promote their content and reach new audiences.
Most adult content creators are looking forward to amassing new fans, so why not use Waptap as one more branch you can add to your Link.tree? It might be exactly what a creator like you needs!
Conclusion
Our final verdict of this brand-new app is that it's fantastic for swiping both NSFW and SFW content.
We think it'll only gain traction with fresh new faces who are tired of having their content taken down on other social media sites.
A big plus is the opportunity the platform gives you to add effects, filters, and music to videos, which really widens the creative horizon for content creators to go wild with all kinds of stripping videos, dancing, thirst traps, and other freaky activities.
The biggest Waptap selling point, however, is that it grants users the freedom to be themselves and explore different kinds of uncensored, raw expression as they learn how to tailor their content and increase their reach.