What is Alua?
Alua is a premium messaging app that allows you to effortlessly connect with content creators, social media influencers, and high-profile personalities. It is a well-known website for content creators and influencers of all genres.
Alua is an adult content-friendly platform that connects content creators with their fans. It is a free, subscription-based social media website that hosts adult content. It is a good OnlyFans alternative where adult content creators can host their content without the same restrictions as other content creator websites, plus a few extra features you will really love such as its messaging app.
How does Alua work?
After the early rumors that OnlyFans might start banning adult content, content creators are now looking for OnlyFans alternatives to host their content.
Alua is a great way to share your photos and videos with your fans and make money from the things you are passionate about, the best money-making tool for creators. It allows creators to monetize their content easily with various features such as:
Exclusive Premium Paid Messaging System
Subscriptions
Broadcast Messaging
Alua is designed to help content creators promote their content while privately connecting with their fans. Content creators charge people to access their exclusive content. You can charge a subscription fee that lets people access your exclusive photos and videos. They also have the option to connect with you on a one-on-one chat. You can sell custom content through chat to make your conversation even more personal.
How much can you earn on Alua?
Alua is similar to OnlyFans in terms of user perspective. It is one of the best money-making tools for creators with up to 85% earnings and commissions for content creators on subscriptions, chats, and paid content. Unlike other content subscription services, Alua lets you earn 5% lifetime commissions on all of your referral earnings.
How much you can earn depends on how many subscribers and referrals you have. So you need to build up your fans and followers and make them subscribe to you just like other websites for content creators. The more subscribers you have, the more money you can earn.
How to start an Alua account?
Setting up an Alua account is so easy. All you need to do is visit their website and sign up to become a creator. It's easy and free!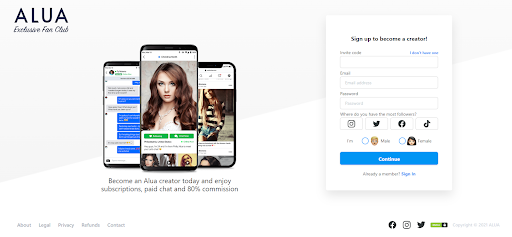 You will be required to fill out some necessary details when signing up, such as your invite code (optional), email address, password, and gender. You will also need to connect one social media account with at least 1,000 followers to validate your application.
The next thing you need to do is to set up your Alua profile by filling out your username, display name, title, and a bio description just like other content creator websites.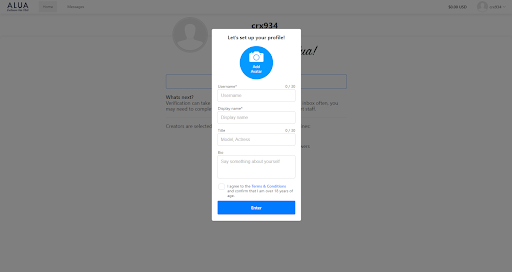 Verifying your identity
Next, you will need to verify your identity, similar to OnlyFans. You will receive a verification email and may need to complete an ID verification with the Alua chat support team if needed. Verifying your account can take 2 minutes or a few hours. Just make sure to send complete information for faster verification.
Alua Messaging App
Alua is known to be a messaging app where you can connect with your fans even without selling content. This is one of the best features Alua has. Unlike other content creator websites, Alua has a messaging app that you can earn through talking with your fans on a mobile app. You can download Alua App from Google Play and the App Store and sign in using your content creator account.
Navigating everything from a mobile device is so convenient, especially websites for content creators. It allows you to share your content in a digital space you control aside from doing it on the website.
Setting up your chat rate
Now that you have verified your identity, you can start setting up your chat rate to start promoting your account. You can set up your chat rate using their default chat rate, with up to 5 credits per message, or even have it set for FREE.
One thing that makes Alua the best money-making tool for creators, is that you can use it as a paid chat system and earn without selling content and subscription. All you have to do is earn through chatting with your fans and subscribers.
The lower your rate, the more new chats you will get! Exclusive content can be sold via chat with your own set rates. Exclusive content sold via chat can be set up to disappear after 24 hours.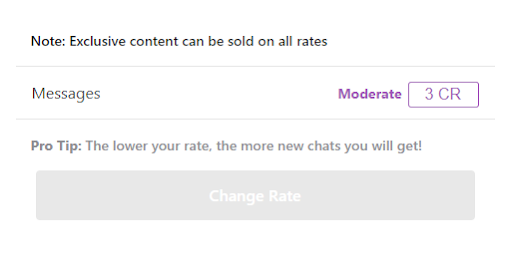 You can then enable Auto Messages once your chat rate is set up. It will let you automatically send a welcome message to your fans and subscribers who signed up using your link. Make it personal!
Setting your subscription rate
Alua lets you create a public and private feed on one page where you can upload your photos and videos. Your public feed lets you upload up to 12 photos and videos while your private feed is exclusively shown to your fans when they subscribe. They will have to pay the amount of your subscription to see your exclusive content, similar to subscription websites for content creators.
To get started, you will have to set your subscription rate by uploading at least ten photos and/or videos on your Alua private feed. Once your private feed is ready you can set up your subscription rate and start promoting and selling your subscriptions.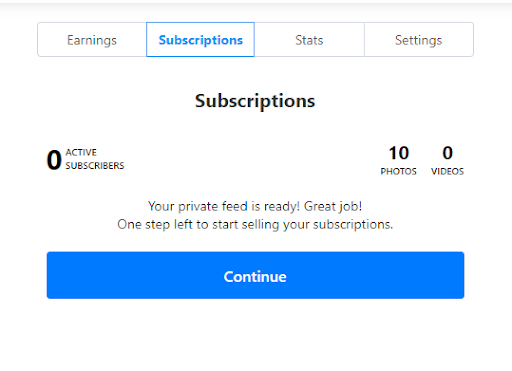 Alua lets you withdraw from your account at any time with a minimum payout limit of $20. To withdraw, you will need to set up a payment method of your choice in the payout settings section.
Now that you have set up your account on Alua, you can start planning your content. Make sure to post consistently, be online most of the time, and interact with your fans. Promote, promote, promote and succeed on the platform.