SextPanther, a popular sexting site, was recently barred from allowing its members to send sexts. This decision has left many users feeling frustrated, as sexting has been a popular way to communicate for many years.
SextPanther was a website where members could exchange explicit messages and images. Users can engage in conversation anonymously on this platform without revealing their true identities. Unfortunately, the site has become a target for inappropriate activity due to the explicit nature of the messages and images sent. They are no longer permitting the site's models to send sexts is the result.
"Welp sexpanther is dead in the water. Due to the service provider they use for SMS messaging deciding sexual messages are no longer allowed.", one Sextpanther model said. "They are switching to website only. No more SMS which was a huge client converter. The war on sex work continues."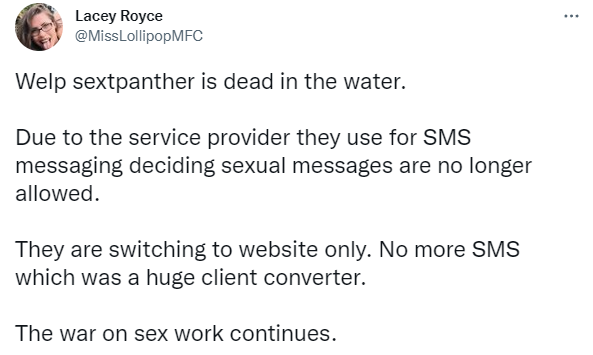 SexPanther Changes Affecting Sex Workers
This change to SextPanther is yet another setback for the sex work industry, limiting freedom and restricting access to some of their clients. This comes at a time when the adult industry is already under scrutiny, with social media, banking, and credit card companies all imposing restrictions. This demonstrates the industry's discrimination and the need for greater understanding and acceptance of the work. It is essential to respect sex workers' rights and do not subject them to unnecessary scrutiny or restrictions.
Sex workers criticize the new SextPanther changes as yet another attempt by the platform to control and limit their freedom. The new SextPanther's new regulations I seen as censorship, with potentially serious consequences for sex workers. Many are concerned that these changes will reduce their income and cut them off from some of their most loyal customers. Furthermore, the new regulations may leave sex workers vulnerable, as they may no longer be able to rely on the platform to protect them from predatory clients.
The changes to SextPanther have sparked a much-needed discussion about sex workers' rights and the power dynamics between them and the platforms on which they work. Many people want the platform to better protect the rights of sex workers and give them more autonomy and freedom in their work. Furthermore, sex workers want SextPanther and other similar platforms to provide them with better support and resources to ensure their safety. Ultimately, the changes to SextPanther are a reminder that sex workers are often left out of the conversation when it comes to the regulation of online platforms, and that their rights and safety should be taken into account.
Read: 4 Ways To Talk To Your Audience About Your Adult Content Platform
SextPanther Alternatives
Many users, not just Sextpanther users, have been looking for alternative sexting sites. Sextpanther changed to SexpantherModels. Alua, on the other hand, is an excellent alternative for those looking for a safe and secure platform to engage in chats, including sexting.
Alua is a private messaging platform that enables users to securely send private messages and images. It also has a number of features that make it an excellent substitute for SextPanther. The platform has a simple interface that makes it simple for users to navigate. Additionally, Alua is a photo-sharing app where you are allowed to sell your photos and videos to your fans and has a texting option for private messaging. This allows users to communicate in whatever way suits them best.
Alua allows users to connect with independent and professional models, allowing them to create a personalised and unique experience. The site offers a wide range of services, from simple chat to more intimate activities.
Overall, Alua is an excellent alternative to SextPanther. It is an excellent alternative for those looking for a safe and secure sexting platform. Alua has a number of advantages over SextPanther, including an easy-to-use interface and multiple messaging options.
The site offers a safe and secure platform for users to explore their desires, as well as a variety of payment options and safety measures to ensure that users remain safe. With its user-friendly interface, Alua is a great choice for those looking for an alternative to SextPanther.