What is Patreon?
Patreon is a crowdfunding site that caters to internet celebrities and artists that are in the business of producing regular content. All creators can earn money through this membership site. In terms of crowdfunding websites, Patreon has grown dramatically in popularity in recent years.
With Patreon, content creators can raise their recurring monthly income by granting members access to their exclusive content. Patreon subscribers are referred to as patrons. Patrons can join an exclusive community of their favorite creators through the platform and give them financial support.
The platform is a modern interpretation of the traditional concept of patronage. Historically, wealthy donors have funded the work of artists such as painters, musicians, and authors. Patreon expands on that core concept by allowing a much larger audience to fund their favorite artists and creators at low monthly rates. It is now used by a diverse group of artists, such as podcasters, YouTubers, musicians, and writers.
How does Patreon work?
Patreon allows creators to monetize their work by charging patrons a monthly fee for access to their exclusive content.
It is basically selling what you know online, which benefits both the creators and the customers. Creators are aware of their monthly earnings and can count on them to support their work. Patrons can also see how their subscription benefits the creator in exchange for something they require from them by clicking a button.
How to start an account?
If you want an additional, recurring source of income, you can start a Patreon. Here are the steps to starting a Patreon.
1. Create a Patreon account.
First thing first! Create an account on Patreon. You can sign up with Google, Facebook or an email address.
2. Add a profile photo and create an about me.
The second step is to add a profile picture and optimize your profile by creating an about me section.
Your about me section should explain who you are, your values and principles, what your product or service is and what they should expect from your Patreon account.
3. Create your membership tier and tier description.
The third step is creating your membership tier. For a lite plan, you can only create one payment tier for members. Lite plan can be a good option for starters, you can upgrade to a Pro account once you are ready.
For Pro and Premium creator plans, you can create your membership tiers and a description for them. With membership tiers, you can provide different levels of access to products, services, and content. Members can sign up for higher membership levels that give them access to your extras whenever they want, rather than making a one-time purchase from your Patreon account.
You can then start uploading your content, product and services.
How to use Patreon?
Using Patreon is as easy as 1,2,3! Here are some examples of how to use Patreon for artists, bloggers, content creators, and more.
Content ideas for Artists:
Artists in all forms from authors to comedians to actors can be considered can consider these ideas.
One-on-one tutorials
Live group tutorials
One-on-one art coaching
Downloadables/printables
Extra video content
Extra blog content
Content ideas for bloggers:
Early access to written material (previews, snippets, excerpts, etc)
"How-to" articles about your writing process
Livestream sessions about your niche
Live writing tutorials
Coaching, feedback, and critiques of members' articles/posts/essays.
Content ideas for Youtubers:
Footage from behind the scenes
Discord / Slack / Telegram private groups
Bloopers
Live Q&As
Extra episodes
Episode suggestions
Early access to merchandise and discounts on merchandise
Signed swag or merchandise
Video meetings with individuals
Read more content ideas here.
What is the creator pricing?
The creator pricing varies depending on the membership plan. The Lite plan deducts 5% of monthly earnings, the Pro plan deducts 8%, and the Premium plan deducts 12%.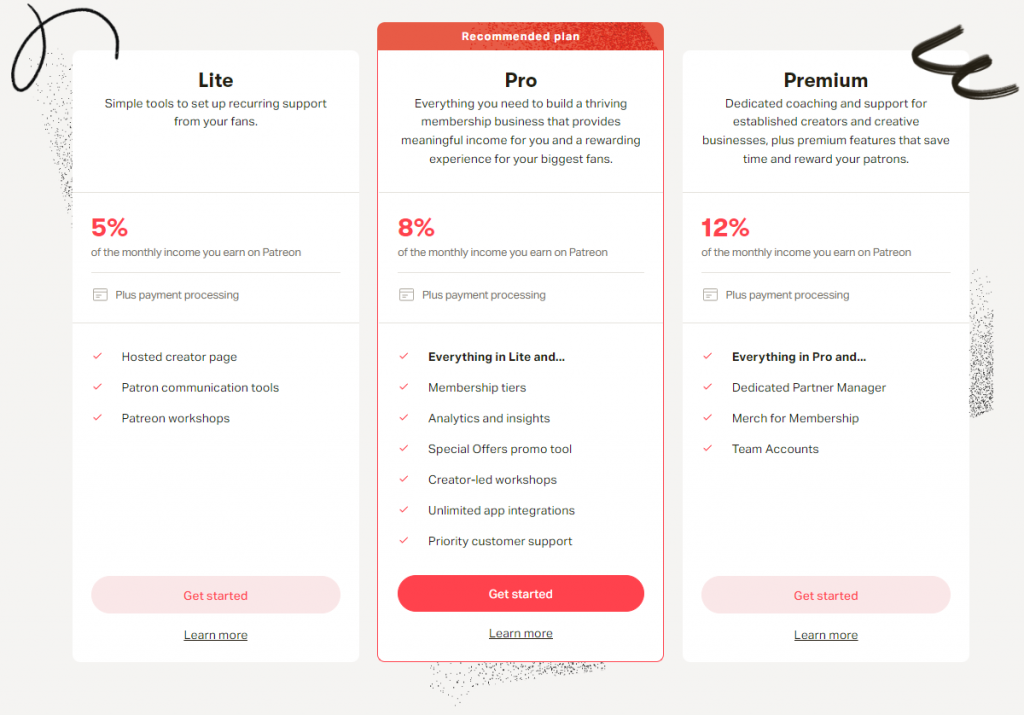 They only takes a small percentage of each creator's earnings to cover processing fees, which are 2.9% + $0.30 for standard payments and 5% + $0.10 for micropayments.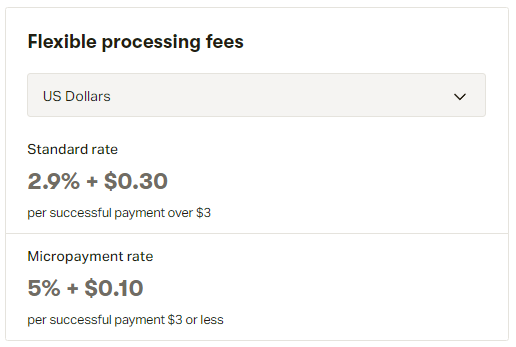 Patreon has proven to be an effective way for content creators to generate recurring income. Its model appears to be simple, giving content creators a reason to experiment with it.